Magical attractions in Paris
Publish on Wednesday, 10 August 2016 in Entertainment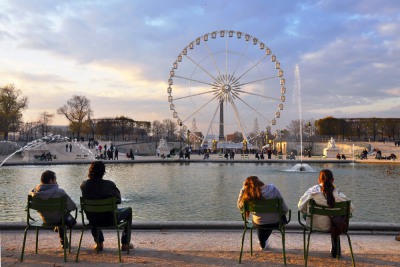 If you're planning a trip to Paris this summer, you will certainly not want to miss out on the many and varied unique attractions offered by the capital. Among them are the Tuileries Fair and the Big Wheel of Paris. These fairground attractions with a Parisian twist are just a part of the pleasure the capital offers, as you will discover when you stay at the Hotel Convention Montparnasse.
Paris invites you to the Fête des Tuileries
Once again, the Jardin des Tuileries provides the beautiful backdrop for rides to make your head spin! Masterfully organised by the king of fairground entertainers Marcel Campion, this traditional-style carnival will provide fun for all the family until late August. This year's thirtieth Tuileries Fair boasts more than 80 attractions, with something for everyone. Here you can find classic funfair frolics such as dodgems, a ghost train, shooting galleries, a fun house, a beautiful turn of the century carousel and games of skill such as hook a duck. For those who like a little adrenaline mixed in with the laughs there's the 6G ride, which hurls you around at 140 km/h. Between attractions you can also tuck into a Chantilly waffle or an irresistible toffee apple.
Take to the skies aboard the Grande Roue de Paris!
While you're in the mood for all the fun of the fair you'll certainly not want to miss the Grande Roue de Paris, located on the Place de la Concorde. This colossal Ferris wheel, now 10 metres taller than before, offers a truly spectacular 360° view over the City of Light. Hop into one of its 42 pods, day or night, and you will be gently raised aloft nearly 70 metres into the Parisian sky. From this panoramic vantage point located on the historical axis you'll be able to spot the city's world-famous monuments, including the Sacré-Cœur Basilica, the Arc de Triomphe and the Eiffel Tower. You can even trace the meandering course of the Seine from this lofty perspective. A pause at the very apex will give you ample time to ponder the capital's majesty! Then, basking in the warm glow of special memories, you can return to your Hotel Convention Montparnasse, just fifteen minutes away by Metro.
« Back to articles