The Trocadero skating rink: great fun to be enjoyed at Christmas
Publish on Thursday, 10 December 2015 in Entertainment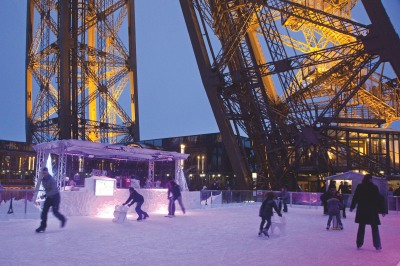 The holiday season takes on an extra-special dimension in Paris, where many seasonal events add zestful warmth to the winter and provide magical experiences for adults as well as children. The Trocadero ice-skating rink is just such an attraction, offering festive fun in a unique location to all visitors to the capital at this special time of year.
Christmas in Paris: there's magic on every street corner
If you have the chance to come to Paris during the Christmas holidays, you'll be bowled over by the way the city celebrates this time of enchantment. From the gorgeously dressed shop windows to the constellation of illuminations that garlands the City of Light, the capital embraces the Christmas spirit like nowhere else on Earth. To savour the magical atmosphere to its fullest and enjoy a memorable stay, don't forget to select some great accommodation. The Hotel Convention Montparnasse is the smarter choice, offering unparalleled comfort and a convenient location in the heart of the lively 15th arrondissement, near the Montparnasse train station and the exhibition centre. From here, you can explore Paris in ease and with complete peace of mind.
The Trocadero ice rink: a perfect expression of the magic of Christmas
Among the many activities that abound in Paris in this holiday season, one in particular is simply essential; the magnificent ice-skating rink that is set up at the Trocadero each year. Offering a matchless view of the majestic Eiffel Tower, the rink opens for your skating pleasure from December 18th 2015 to January 3rd 2016. It's all part of the famous Trocadéro On Ice Christmas village, a winter wonderland with something for everyone. The programme for 2015 includes an esplanade of kites, shows, food stalls, a fabulous Christmas market and, of course, the 300m2 rink that offers such fun for all the family.
© Paris Tourist Office - Photographe : Amélie Dupont
« Back to articles