Contemporary art from MoMA at the Louis Vuitton Foundation
Publish on Monday, 11 September 2017 in Exhibitions and Museums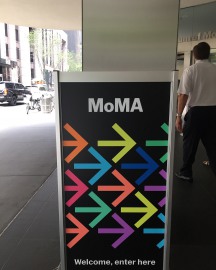 From October 11th, 2017 to March 5th, 2018, the Fondation Vuitton will host, for the first time in France, a major exhibition of 200 works drawn from all six curatorial departments of New York's Museum of Modern Art under the title Be Modern: The MoMA in Paris. Thus will Paris, the capital of art, present masterpieces by many artists.
If you wish to visit this unique exhibition, come and stay at the Hotel Convention Montparnasse, located in the heart of the 15th arrondissement, a fifteen minute walk from the Eiffel Tower.
Iconic works from the first decade of MoMA
Immerse yourself in the American realism movement with House by the Railroad by Edward Hopper. With Constantin Brancusi's Bird in Space, exhibited in France for the first time, you will discover a sculpture that redefined the concept of a work of art. Be charmed by Walt Disney's Steamboat Willie, in which Mickey Mouse appeared for the first time. Echo: Number 25 by Jackson Pollock and Woman of Woonm by Willem de Kooning will take you into the heart of abstract expressionism.
Movements born in reaction to abstract expressionism
Pop art is also well represented in the MoMA exhibition. This movement appeared in the late 1950s in the United States with artistic creations inspired by the consumer society. Campbell's Soup Cans was a series of paintings that Andy Warhol created as a reaction to abstract expressionism and this work is being exhibited for the first time in France. Minimalism offers us pared-down design elements, while in the works of Fluxus and The Pictures Generation the eclectic and multi-disciplinary holds sway.
Contemporary works from around the world
Most of these works have been acquired by MoMA over the past two years. Here you will find the emoji of Shigetaka Kurita, the Japanese inventor of a concept that has been spread throughout the world via electronic media. The exhibition shows how contemporary art is inspired by our modern world.
Photo credit : hhooooon_jl
« Back to articles