Enjoy a gourmet break at the Salon du Chocolat
Publish on Wednesday, 10 October 2018 in Fairs and Trade Shows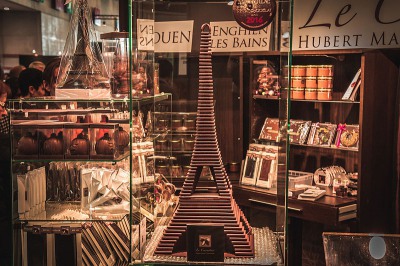 A trade show that was born in Paris in 1995, the Salon du Chocolat celebrates the work of the master chocolatiers and the delights of chocolate and cocoa in general by way of a programme rich in entertainment and events. With more than 500 participants from 60 countries, including 200 renowned chefs and pâtissiers, the Salon du Chocolat is an essential experience for gourmets, chocoholics, industry professionals and the simply curious. Come and enjoy this amazing trade fair taking place from October 31st to November 4th at the Porte de Versailles Exhibition Centre during your stay at the Hotel Convention!
A gathering of the top chocolate professionals
The Salon du Chocolat, the biggest global event dedicated to chocolate and cocoa, has been a key event for some years now for all lovers of this brown gold that brings such pleasure to so many. In an exhibition area of nearly 20,000 m2 you'll find master pastry chefs, world-famous chocolatiers and representatives of more than twenty cocoa producing countries.
These virtuosos, artists who work chocolate in the manner of a precious metal, will delight you with their exquisite creations. Certain specialties and chocolate works have been created exclusively for the show, and you'll also have the opportunity to enjoy live demonstrations by the world's greatest chefs.
From the bean to the bar ... a whole programme
This show, full of flavours and colours, combines all the many pleasures of cocoa and its derivatives! It offers entertainment for all ages, along with chocolate delights from five continents. Meet representatives of cocoa producing countries and enjoy the wonderful live performances of the Cacao Show. Share the secrets of top professionals, participate in workshops, take advantage of tastings, watch presentations and attend the traditional fashion parade of chocolate dresses, an always eagerly awaited event that brings together the immense talents of the greatest chocolatiers and designers.
******
For more information :
- Official Website of the Event
- Official Facebook Page
---
Hotel Convention Montparnasse, a 3 stars hotel in the heart of Paris 15th
« Back to articles