Enjoy delicious and unforgettable ice creams in Paris
Publish on Thursday, 10 May 2018 in Flavors and Gastronomy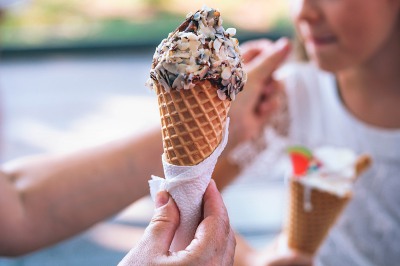 With the warm weather here at last, there's nothing to beat a delicious ice cream for delighting your taste buds and quenching your thirst! But why limit yourself to the classic flavours, such as strawberry, vanilla or chocolate? During your stay at the Hotel Convention Montparnasse in Paris you can choose from a selection of the trendiest and most original Parisian ice cream parlours.
The Bac à Glaces; delicacies unlimited
Ice cream lovers are well familiar with this shop located in the chic 7th arrondissement. The Bac à Glaces (Ice Cream Tray) offers no less than sixty flavours of ice cream, concocted in the grand glacier tradition. For example, you'll find Mirabelle plum, yuzu, liquorice and gingerbread ice creams and sorbets, as well as raspberry-rose, pear-tarragon and pear-verbena. An endless array of delights!
The Tropicale, the glacier that titillates your taste buds
A few steps from the Place d'Italie you'll find La Tropicale, a glacier where you'll be delighted with the Asian-influenced ice-cream flavours. Try a yuzu and espelette pepper sorbet or perhaps you'd prefer the saffron and ginger... The ice creams offered are a taste delight that will open up your imagination to new flavours.
Grom, la glace italienne revisitée
This Marais glacier located in the centre of Paris tickles the palates of lovers of Italian ice cream. On the menu you'll find new and very tempting flavours, including ricotta, candied raspberries, or even pink Himalayan salt.
For your gourmet stay in Paris, opt for a room at the Hotel Convention Montparnasse. Here in the heart of the 15th arrondissement, on the Left Bank of the Seine, the Hotel Convention Montparnasse offers you all the comfort, calm and tranquillity you will need to fully recharge your batteries at night, ready for another glorious Parisian day.
« Back to articles