Musicals in Paris, not to be missed shows
Publish on Wednesday, 10 January 2018 in Events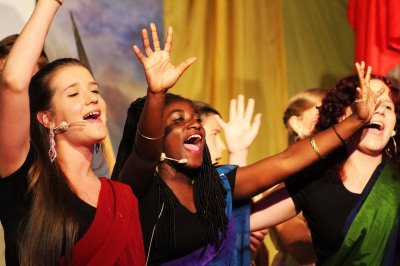 Paris has developed a globally recognized artistic identity offering for some years moving, funny, catchy, rich in colors, music and dazzling decorations musicals. Like the New York stages of Broadway, the Palais des Sports, the Folies Bergères and the Casino de Paris present must-see events to enjoy during your stay in Paris. The Hotel Convention invites you to book your tickets to discover three not to be missed shows.
A charming bodyguard at the Palais des Sports
Remember it was in 1992... the release of Bodyguard, a global film event that brought together Kevin Costner and Whitney Houston. Nobody has forgotten "I Will Always Love You", global success, sang by Whitney Houston. The Palais des Sports welcomes from February 2nd to March 3rd 2018, the musical Bodyguard that pays tribute to the famous moivie with 16 unforgettable songs. This breathtaking French adaptation is a sweet mix of love, suspense, emotions and glamor with dialogues translated into French, songs in original version and 35 actors, singers and musicians accompanied by a live orchestra.
Les Choristes on stage at Folies Bergères
Did you enjoy Les Choristes, a musical and cult film released in 2004 seen by more than 8.5 million viewers? You will love its musical adaptation that will enchant both your eyes and ears from January 19th to February 11th, 2018 on stage at Folies Bergeres. You'll be seduced and moved by this marvelous story on a post-war background that revealed the exceptional singing gifts of the young Pierre Morhange. (Part of the profits from the sale of tickets to the show will be donated to the association "Enfance et Partage")
Delirious homage to tolerance with wild Priscilla of the desert at the Casino de Paris
After an incredible success in London, Sydney and Broadway, Priscilla arrives in France to revolutionize the scene of the Casino de Paris from February 8th to March 17th, 2018. Priscilla, a nice name for this bus carrying 3 friends across the Australian desert to present a a queer show of drag queens and transvestites. This hilarious comedy, inspired by the famous Australian film released in 1994, will make you dance for sure on the sound of the greatest disco hits of all time and the most danced soundtrack in history.
« Back to articles