On Valentine's Day, taste the romantic creations of chocolatiers
Publish on Thursday, 10 January 2019 in Flavors and Gastronomy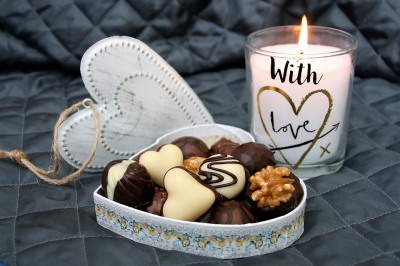 Shower your love with chocolates! Say it with flowers, too, of course, but when you're in Paris you really need to treat your loved one to the romantic creations of the great chocolatiers for which the capital is justly famous. Lenôtre, Hugo et Victor, Café Pouchkine, Fauchon, A la Mère de Famille, Leonidas ... All the grandes maisons offer original gourmet creations for Valentine's Day!
Chocolates to show your love
February 14th is a day unlike any other because it provides an opportunity to let your better half know how much you care. So, it's with great pride that the greatest chocolatiers of Paris have prepared for you exceptional chocolates, delicacies filled with love offered in beautiful and original presentations. Tasting chocolates is not just a solitary pleasure; the experience is far better when enjoyed by two.
The best places for chocolate heaven
At Fauchon you'll find delicious chocolate confectionery such as the classic milk chocolate heart filled with praline alongside some bolder creations with new flavours.
When you visit Hugo et Victor, a chocolatier renowned for using seasonal fruits and top-quality ingredients, don't miss the limited edition of their legendary chocolates packaged in boxes that look like notebooks with covers inspired by Moujik, the celebrity dog belonging to Yves Saint Laurent and Pierre Bergé.
To delight the eyes and taste buds of lovers, A la Mère de Famille, the oldest sweet shop in Paris, brings you its gourmet mendiants presented in two kinds of jewel case. These tasty little milk or dark chocolate disks in which pistachios, almonds and raisins are delicately set will melt your lover's heart!
Finally, Leonidas has chosen to seduce lovers with several chocolate sweets in the shape of tender little hearts.
******
---
Hotel Convention Montparnasse, a 3-stars hotel in the heart of Paris 15th
« Back to articles