When it comes to literature, Paris is right on the page!
Publish on Friday, 10 March 2017 in Fairs and Trade Shows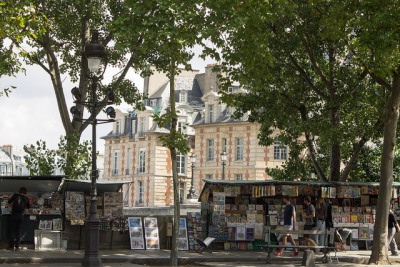 Paris is a capital of creativity and literature where reading is, as elsewhere, a healthy pleasure and a way to escape while expanding your mind to embrace various concepts, ideas and opinions. During your Parisian stay at the Hotel Convention Montparnasse you can experience the joy of reading and literature wherever you go in the City of Light.
The Paris Book Fair returns in March
From March 24th to 27th a major event in French cultural life takes place when the Porte de Versailles Exhibition Centre welcomes the 37th Paris Book Fair. Distinguished by the richness, quality and diversity of its programme, Livre Paris brings together French and international authors, publishers and readers, and offers over 800 events and activities.
Browsing for books along the Seine
A visit to the world's largest open-air bookstore is a must when visiting Paris. The stalls of these Bouquinistes can be found along the picturesque banks of the Seine, where they have been plying their trade since 1607, the year when the Pont Neuf was built. On both sides of the river you can experience bibliophile bliss by strolling and browsing along the stalls of some 240 booksellers offering rare books and comics, posters, old postcards and souvenirs of Paris. Whatever the weather, the dealers in used and antiquarian books are always there, faithful guardians of a unique literary and historical heritage.
Very special bookstores
Paris also offers a selection of unusual and excellent bookstores that are guaranteed to sate your appetite for the printed page!
Ofr is a bookstore with an arty, trendy and somewhat avant-garde feel, and is also an independent publishing house.
Shakespeare & Company is the most British of them all. A bed is installed in a corner for a quiet read!
Are you visiting Paris with your family? Go to the Librairie des Enfants, where you can find at least 6000 works to instil a taste for reading in your young ones.
Finally, food lovers should check out the Librairie Gourmande, which specialises in works on gastronomy and oenology.
« Back to articles