A spring picnic in the Jardin Atlantique
Publish on Friday, 10 June 2016 in Visit Paris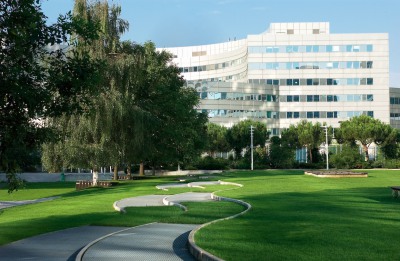 On the roof covering the tracks and platforms of the Gare Montparnasse is one of the best kept secrets in Paris, the Jardin Atlantique. Spacious, charming and flower-filled, this amazing park is seventeen metres above the streets of the city. Perfect for stolen moments, the Jardin Atlantique offers a wonderful spot for a relaxing picnic beneath the Parisian sun.
Sumptuous gardens for enjoying sunny days
A lovely green space set amidst glass and concrete, the Jardin Atlantique is surrounded by the tall buildings created by the Maine-Montparnasse urban renewal project. This unusual park, which opened in 1994, is something of a paradox. It's virtually a hidden location, away from the crowds and off the well-beaten tourist path, while still being at the heart of a busy transport hub. Perfect for a picnic with your special one, friends or family, this park is full of possibilities for activities. In the Jardin Atlantique you can enjoy the shade of a chestnut tree, participate in a game of tennis or ping-pong, or keep in shape by following the fitness trail and its suggestions for exercises.
A wonderful setting, between nature and the city
The large central lawn surrounds a square called the Isle of the Hesperides, named after the island of Greek legend, and here you can find a delightful fountain, surmounted by a mirror that will astonish you with its illusions and playful trompe-l'oeil. Wander the paths and admire the wind-stirred grasses, the aquatic plants and the flowering bushes that offer hues of green, purple and creamy white. For an even more surprising panorama, you can stroll on the suspended walkway that floats above the gardens - mild vertigo guaranteed! During your stay in the capital, enjoy the comfort of our Hotel Convention Montparnasse, located just steps away from the Jardin Atlantique. We will be delighted to place our skills and knowledge at your service to ensure your wellbeing and the success of your stay.
© Paris Tourist Office - Photographe : David Lefranc
« Back to articles