Enjoy New York's Pop Art collection at the Maillol Museum
Publish on Tuesday, 10 October 2017 in Exhibitions and Museums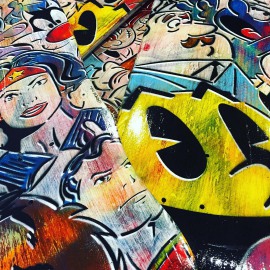 The exhibition Pop Art: Icons that Matter presents works from the collection of the Whitney Museum of American Art in New York. It can be seen from September 22nd, 2017, to January 21st, 2018, at the Musée Maillol. Enjoy this unique exhibition when you stay at the Hotel Convention Montparnasse in the heart of the 15th arrondissement.
The Whitney Museum
The sculptor and patron Gertrude Vanderbilt Whitney founded the Whitney Museum in 1930. This world-renowned institution now boasts over 22,000 works by more than 3,000 artists in all American styles of the 20th and 21st centuries. Some of these have been loaned to the Musée Maillol for the current exhibition.
The biggest names in Pop Art from the 60s to the late 70s
Everyone is aware of Andy Warhol's famous Marilyn Monroe silk screen prints, but this exhibition offers the opportunity to explore in depth an art movement that first appeared in the UK and the USA in the 50s in reaction to Abstract Expressionism. Pop Art, as it came to be called, drew inspiration from popular culture. So we have Whaam! by Roy Lichtenstein (1963), expanding with irony on panels from American war comics, and Jasper Johns' Flag asking us to look anew at the Stars and Stripes.
The opportunity to discover lesser-known artists
You will also have the opportunity to discover the works of lesser-known American artists such as Rosalyn Drexler and May Stevens, whose works explore gender political issues. Big Daddy Paper Doll by May Stevens, for example, mocks patriarchy.
The Musée Maillol exhibition delineates one of the most important artistic currents of the 20th century. It gave rise to Nouveau Réalisme in France, which was effectively heralded by Mythologies by Roland Barthes, a reflection on the tendency of contemporary social value systems and the consumer society to create modern myths.
Photo credit : dezache
« Back to articles